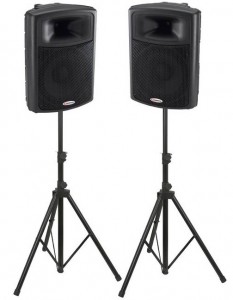 Our 200 watt PA speaker system rental has a 15″ woofer for deep bass and a horn for crisp mids and highs. Each speaker has a built-in mini mixer, letting you easily connect it to media players, smartphones, computers, microphones, and pretty much anything else with audio outputs.  Each speaker includes a power cable and collapsible stand.
These speakers can be chained together easily using XLR cables to maximize coverage. They are a popular renter for events in banquet halls, movies, and presentations.
We rent them individually, and suggest renting two for medium sized rooms. In large rooms or outdoors, we suggest renting something more powerful.
Rental Prices

$59

for 1 day

$118

for up to 3 days

$177

for up to 7 days
Call or email for availability.
Suggested accessories:
Microphone