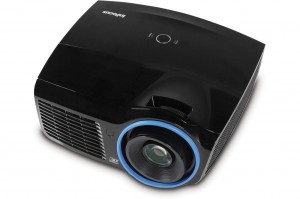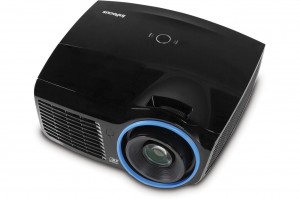 Rent this HD video projector for movies, presentations, and more.  Designed for large screens and rooms with ambient light, this HD extra bright video projector supports 16:9 1080p, making Blu-ray, DVD, and online video pop.  A high contrast ratio (5000:1) and fantastic color rendering are possible with the projector's DLP technology. This projector is a great choice for 10-12 foot screens with some lights on, and screens up to 18 feet in near darkness.
You can connect nearly anything, including Display Port, dual HDMI, VGA, component, composite, and S-video.  You can even control the projector over the network using the ethernet LAN port.  And at under seven pounds, it's the only 4000+ lumen projector rental we'd call portable. We include a remote for easy setup.
If you are looking for a projector for a backyard movie night, we include this projector in a rental kit that includes everything you need.
We're certain nobody in Milwaukee has a brighter projector rental for less!  And if you combine your rental with a screen or soundsystem, we'll give you a discount so you can save even more!
Rental Prices

$129

for 1 day

$268

for up to 5 days
Call or email for availability.
Suggested accessories: